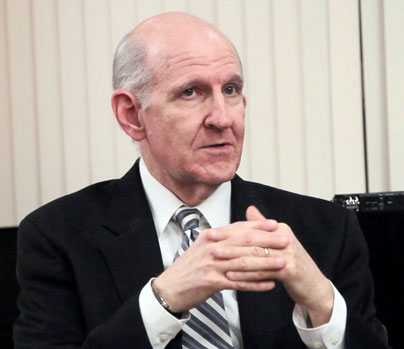 Owens was born in 1950, and grew up in southern Texas, earning degrees at both the Eastman School of Music and the Manhattan School of Music. In addition to composing, Owens has also been active as a pianist, organist, and conductor. He has also written extensively about contemporary music—American music especially—and the series of articles he wrote for the Christian Science Monitor during the 1980s won the ASCAP/Deems Taylor Award. A two-part interview he did with Peter Mennin for the Monitor serves as one of the most informative resources on that great American composer.
Owens' own music is outstanding, projecting great rhythmic energy driven by a streamlined gift for counterpoint. His major works include a Viola Concerto, a Double Concerto for Euphonium, Tuba, and Orchestra, and an opera, Jonah. He currently lives and works in the Boston area.
A compact disc of music by David Owens has been released on the Albany label. Included on that recording is an extraordinary Sonata for Two Pianos. Following is a short sample of that work.
---
Excerpt – Sonata for Two Pianos
---
Links