Voices of Stone and Steel – Vincent Persichetti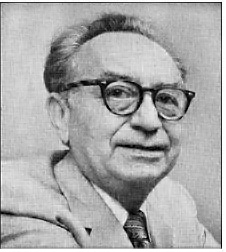 Vincent Persichetti was one of the most widely respected musicians of his generation. A prolific composer, brilliant educator and lecturer, and prodigious pianist, he composed more than 150 works in virtually all genres and for virtually all performing media, while serving for 40 years on the faculty of the Juilliard School, many of them as chairman of the composition department.
During his lifetime Persichetti influenced the musical lives of thousands of people from all walks of life, and his name came to signify a comprehensive musicianship virtually unparalleled among American composers. Countless young pianists werenurtured on his sonatinas and the Little Piano Book, while many other young instrumental students first experienced serious contemporary music through his works for band; church choirs turned to his Hymns and Responses for the Church Year as an inexhaustible resource, while many young composers have found his classic textbook Twentieth Century Harmony to be an indispensable tool; among professional soloists and conductors his sonatas, concertos, and symphonies stood among the masterworks of American music. Throughout his life Persichetti encouraged healthy, creative participation in music at all levels of proficiency, while shunning dogmas that advocated one compositional approach at the expense of others.
He was beloved and admired as a teacher, and was in great demand as a lecturer, using his comprehensive knowledge of the repertoire, extraordinary gift for improvisation, awe-inspiring piano technique, and mischievous wit to captivate audiences. He immersed himself in all aspects of music with an infectious, childlike enthusiasm devoid of pomposity.
When he was 65 he told an interviewer: "I've not yet decided what I'll do with my life. Perhaps I will concertize as a pianist, but, on the other hand, shouldn't I bring audiences some of those neglected orchestral pieces? Then again I'd love to have a larger herb farm, if it weren't for my keen interest in sailing. I know I'd like the life of the Maine lobster fisherman, but my sculpting would keep me on solid ground. I'm too busy with composing to consider what my life's work will be. I suppose, though, at some point I should decide to work for a living." (from Voices of Stone and Steel, pp. 173-74).